Intersolar Europe, the world's largest professional exhibition and trade fair of the solar industry with the reputation of a technology and market "wind vane", was held on June 14-16 in Munich, Germany. At this exhibition, TBEA Sunoasis showcased its brand-new PV storage solution with the theme of "Smart PV Storage Leading to Zero Carbon" , presenting a popular and seductive booth with a large crowd of people coming for consultations.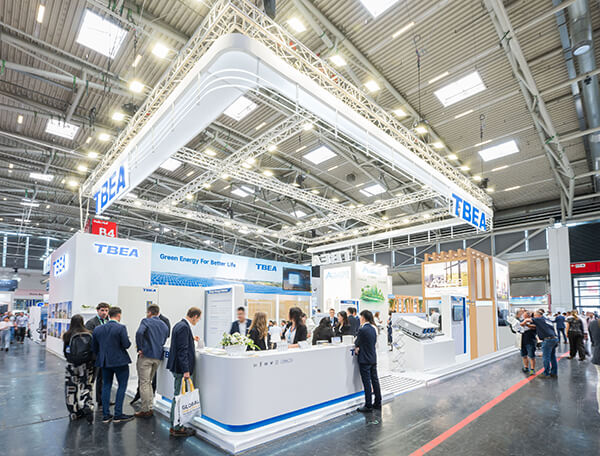 Intelligent PV System Solutions for Large-scale Power Plants - Improved LCOE
Facing the evolutionary trend of diversified and complex PV application scenarios, TBEA Sunoasis has continuously expanded its product spectrum and introduced better LCOE solutions for ground power plants.
On the first day of the exhibition, TBEA Sunoasis presented its self-developed new generation string inverter TS360KTL-HV-C1, with a long-term overload capacity of 1.1 times and maximum output power up to 363 kW. The excellent heat dissipation design provides the inverter with a more robust output capacity under high temperatures and the new DC string intelligent disconnection function allows millisecond-level automatic disconnection when a fault occurs to protect the inverter and its components. With the core features of economic and high efficiency, good grid integration, safety and reliability, and intelligent operation and maintenance, the new generation string inverter TS360KTL-HV-C1 brings customers a better product experience.
The new generation modular 4.4MW/8.8MW PV integrated inverter-booster and 3MW/6MW/9MW box transformer series solutions for large-scale power plants are also highly concerned. The products focus on integrating features such as convenience, stability, reliability, high efficiency, intelligence, and grid support, and can provide better value-added services for projects in deserts, water surfaces, and various other application scenarios, effectively reducing system investment costs for customers.
Promising Commercial and Industrial PV Application - Multimode and High Adaptability
For the European industrial and commercial PV market, TBEA Sunoasis, for the first time internationally, exhibited its household energy storage system and the 8kW-60kW, 110kW, and 150kW full-series commercial and industrial PV solutions to meet the diverse needs of users in different scenarios, demonstrating its comprehensive layout and attracting many participants to consult and negotiate. The products can match two types of modules at the same time, adapt to larger roofs, support high capacity ratio access of over 1.5 times, and possess an overload output capacity of 1.1 times, effectively enhancing the power generation capacity and reducing both equipment and system costs. With the intelligent remote monitoring and maintenance function, the operation and maintenance efficiency is effectively enhanced, creating an integrated PV + storage solution for users.
Intelligent String Liquid-Cooled Energy Storage System - Safe, Efficient, and Friendly
Another highlight at TBEA's New Energy booth this time was TBEA Sunoasis's brand-new intelligent string liquid-cooled energy storage system. With years of R&D experience in energy storage and a focus on the three core highlights of "extreme safety, fine efficiency, and flexibility and user-friendliness", TBEA Sunoasis has achieved the ultimate in the comprehensive development of energy storage safety and efficiency.
By integrating string PCS and liquid-cooled battery cabinets and with the PACK-level detection, piercing, and spraying firefighting method, TBEA Sunoasis realized electrical and physical isolation, fully ensuring the safety of the energy storage system. The single liquid-cooled cabinet allows flexible application in all dimensions for the use of the energy storage system, while the string design and liquid-cooled temperature control method comprehensively improve the discharge capacity of the energy storage system and reducing LCOS by more than 20%, achieving efficient system operation and bringing a more outstanding service experience for users.
At this exhibition, TBEA Sunoasis's intelligent STATCOM provided a solution for the power quality issue of new power systems. Its fast dynamic response for reactive power output can more efficiently suppress voltage fluctuations and harmonics, allowing it to filter out specific harmonic frequencies, improve the safety and stability of power grid operation, and provide better and more electricity generation.
Join Hands for Win-Win and a Green Future
With the mission of "delivering green energy and creating a better life", TBEA Sunoasis has already helped Europe build many high-quality PV power stations. For example, the second 25MW large-scale ground power station in the Bulgarian market has been stably operating for four years with the help of the integrated inverter-boosters. Moreover, the seaside city Cascais of Portuguese has successfully reduced carbon emission and energy consumption thanks to TBEA Sunoasis's 48 string inverters, bringing light to the Iberian Peninsula...many other similar cases can be found all over the world.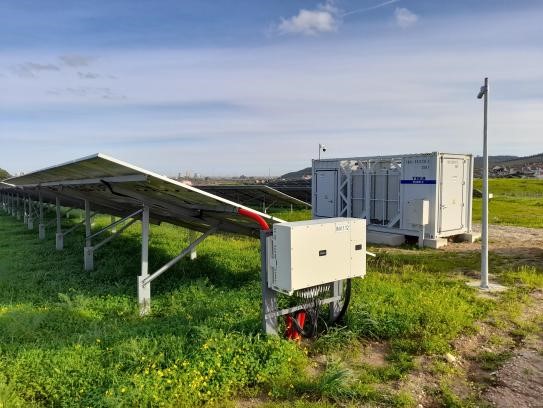 To support the development of the European PV market, one of the leading PV markets around the world, TBEA Sunoasis has always insisted on the quality-centered principle and has constantly iterated and innovated its technology R&D. From now on, TBEA Sunoasis will continuously focus on the international market, bringing advanced PV technologies and products to local customers and partners, contributing to the development of clean energy in Europe, and building a green and beautiful future with all partners!